About Us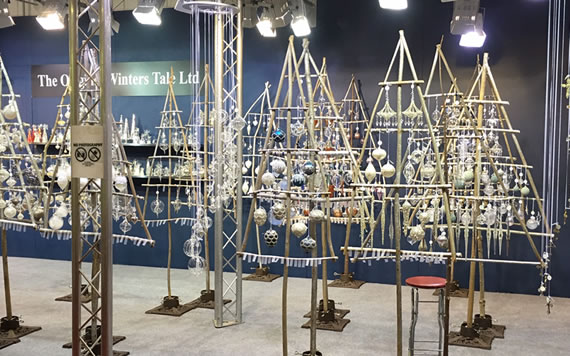 Thank you very much for taking the time to look at our website, we hope you find a magical selection.
Let us introduce ourselves. We are Chrissie and Ali Walker, we run The Original Winter's Tale from the heart of the beautiful Shropshire countryside. We absolutely love Christmas and everything about it, so over 20 years ago Chrissie began designing fairies and Christmas decorations, and Ali took care of the business of distributing decorations throughout the UK and globally.
It has been quite an adventure - we have designed fairies for Her Majesty Queen Elizabeth's Golden Jubilee using material from her shawl, and our decorations have featured on Christmas trees in the homes of Helena Bonham-Carter, Dawn French and Margaret Thatcher to name but a few..
We are proud to have supplied Christmas decorations to Liberty's of London since our first ever trade fair and every year since. We work with high-end retailers including Harrods and Fenwicks, and in 2017 we became the sole suppliers of Christmas decorations to Heal's. The Original Winter's Tale's bespoke ranges have been created for National Portrait Gallery, London Zoo and Westminster Abbey. Our designs have featured on the cover of Elle Decoration, and on several BBC TV programmes.
Prior to setting up our company Chrissie taught drama for 28 years and Ali was a mechanic. We wanted to try something new – Chrissie wanted to import antique Chinese furniture and Ali wanted to go to France and breed cows. The cows didn't work for Chrissie so they set off for China.
Without being able to read Chinese characters our first time in China was quite an adventure, getting on trains and buses without knowing our destination. Fortunately, we were approached by a lovely young lady who had studied English at university and wanted to help. Our partnership with Zhang Ying was born, she became our Chinese daughter number one, and is still a much-loved member of our family to this day. Our designs are handmade in China under good conditions, and we run on profit-share with the makers of our decorations.
Our inspiration for the fairies came from a child's eye view of Christmas, Chrissie's pencil drawings were created in wire and filled in with material. Since then we have designed new ranges each year, featuring opulent designs inspired by the wonders of nature.
Please enjoy choosing from our website. If you would like to select designs in person then please email us for passes to the trade fairs we are attending this year, or make an appointment to visit our beautiful showroom – we would love to welcome you to Shropshire.
© 2019 Copyright The Original Winters Tale